About David



Pianist and composer David Drazin is a music and motion picture archivist who has acquired a national reputation for his piano improvisations accompanying silent films. Among silent movie screenings for which he has performed are Cinevent Film Festival in Columbus, Ohio, the Gene Siskel Film Center of the School of the Art Institute in Chicago (staff accompanist since 1985), Pordenone Silent Film Festival, Italy (guest pianist 2003 and 2004), Silent Film Society of Chicago, Argonne National Laboratory, LaSalle Bank Theatre, North Carolina Museum of Art in Raleigh, the Cleveland Museum of Art and the Cleveland Cinematheque as well as at many universities, libraries and churches.

He is notable among contemporary film accompanists for his use of the 1920s-era jazz and blues, rather than classic ragtime, in playing for silent comedies. His improvisational ballet and dance accompaniment skills serve him well in developing music for dramas, such as the films in the Fritz Lang film series recently shown at the Art Institute. 

Not limited only to music, David has operated cameras and projectors as well as crafting several short films of his own. His archive collection includes 78 rpm records, 8 and 16 millimeter silent and sound films.

Jazz, Ballet and Modern Dance Music

In addition to his film music work, Mr. Drazin has accompanied ballet and modern dance classes for Evanston School of Ballet, Gus Giordano Dance Center, Northwestern University, Hubbard Street Dance Company, and Lou Conte School of dance. Versatile with dance music, he has also performed music for tap dance at the Chicago Cultural Center.

His CD recordings include ballet improvisations, modern and traditional jazz, original comedy songs with vocals and piano accompaniment, and a live nightclub performance featuring Chicago blues guitar legend Floyd McDaniel.

A native of Cleveland, Ohio, Mr. Drazin received his Bachelor of Music in Jazz Studies from Ohio State University. An accomplished performer, he moves easily from dramatic classical to lively jazz styles, boogie-woogie and blues, original novelty works and Harlem stride piano.

Dave's Keyboards

In addition to acoustic piano, Dave also performs on his Kurzweil SP76 and his Kawai ES3.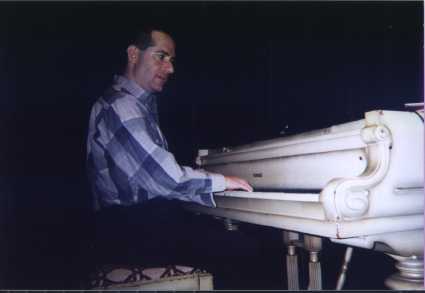 Dave's Social networking sites:

Dave's All About Jazz page
http://musicians.allaboutjazz.com/daviddrazin
Dave's Reverbnation page
http://www.reverbnation.com/#!/daviddrazin


Some of the films 
Mr. Drazin has accompanied:
Seven Chances (1925, Buster Keaton)
Hands Up (1926, Raymond Griffith)
Peter Pan (1924 Herbert Brenon)
The Cameraman (1928 Buster Keaton)
The General (1927, Buster Keaton)
Sherlock Jr. (1924, Buster Keaton)
Tramp, Tramp. Tramp (1926, Harry Langdon)
The Wedding March (1928, Erich Von Stroheim)
Exit Smiling (1926, Beatrice Lillie)
Earth (1930, A. Dovzhenko)
Arsenal (1929, A. Dovzhenko)
I Was Born But... (1932, Yasujiro Ozu)
The Gold Rush (1925, Charlie Chaplin)
Grandma's Boy (1922, Harold Lloyd)
Aelita, Queen of Mars (1924, Yakov Protazanov)
Metropolis (1927, Fritz Lang)
Spies (1928, Fritz Lang)
When the Clouds Roll By (1919, Douglas Fairbanks)
Stella Maris (1918, Mary Pickford)
Intolerance (1916, D.W. Griffith)
Faust (1926, F.W. Murnau)
City Girl (1930, F.W. Murnau)
Within Our Gates (1920, Oscar Micheaux)
My Boy (1922, Jackie Coogan) (Studio recording)
Underworld (1927, Josef von Sternberg)
Chicago (1928, Frank Urson)
Sky High (1922, Tom Mix)
The Toll Gate (1920, William S. Hart)
Les Vampires (1915-16, Feuillade)
His People (1925, Edward Sloman)
The Lodger (1926, Alfred HItchcock) 
Redskin (1929, Richard Dix)


Resource Links to Silent Film, Jazz and Dance   
Silent Film Society of Chicago
Cinevent Film Festival
Northbrook Public Library Classic Films Series
Gene Siskel Film Center
Damfinos
Silents Are Golden
Silent Era
Moviediva
Greg Dunlap, film fan
Classic Images
Arnie Bernstein, writer
Michael Neno - Silents in the Court
MilestoneFilms.com
F.W. Murnau tribute website
Wisconsin Bioscope
Lillian Gish
Jazz Improv
Bix Beiderbecke Society
Colin Davey's Boogie Woogie site
Steve Dore's boogie woogie site
American Music Research Foundation boogie woogie & blues site
Stride Piano Tricks
Famous In The Future jazz & comedy site
Phil Pospychala's - Tribute to Bix
Barbara Rosene - jazz vocalist
Juli Wood
- jazz sax